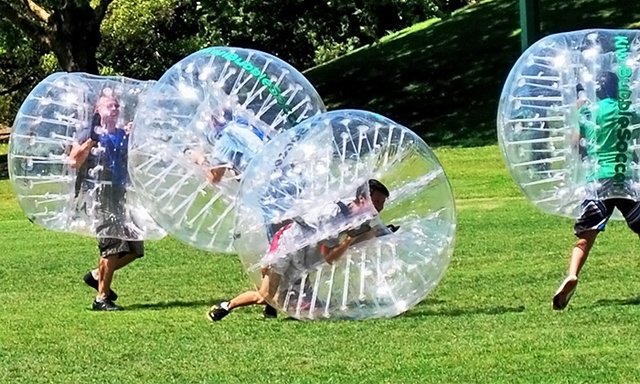 8 Bubble Soccer Balls
1 Hour Event Rental $349
$25 per additional Bubble Soccer Ball
$200 per additional hour
Medium-- Bubble Soocer Ball is for adults and children under 5'6
Large-- Bubble Soccer Ball is for adults and children over 5'6
Hottest New Group Activity!
Bubble Soccer is one of the world's fastest growing contact sports today! Originating from Australia and making its way across the globe Game Rollers is one of the first Mobile Bubble Soccer company to hit South Florida with Bubble Soccer by Game Rollers! It's an event favorite and is guaranteed to have people of all ages standing in line!
Our Specialties
Game Rollers will literally take the party wherever you need it, but here is a list of some of our most common events that we specialize in!
-Fundraisers
-Grand Openings
-Corporate Events
-Team Building Events
-Birthday Parties & Quinceaneras
-Holiday Parties
-Tailgate Parties
-Church Events
-Fairs & Carnivals
-Weddings
-Bachelor Parties
-Welcome Home Parties
-Going Away Parties
-Graduations & Proms
-Bat Mitzvah Parties
-Communion Parties
-Community Events
Bubble Soccer by Game Rollers Gameplay